Motion Picture Sound Editors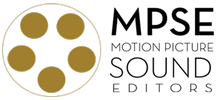 Founded in 1953, the
MPSE
is an organization dedicated to improving the recognition of its members by educating the public and the rest of the filmmaking community as to the artistic merit of sound editing. The efforts of our talented and hard-working members can be heard every hour of the day all over the world.
MPSE members are the artists who sculpt dramatic sound effects and invent new sounds for imaginary worlds. In addition to sound effects editors, members also include Foley editors who edit the specially created sound effects performed to the picture that are so frequently taken for granted as a natural part of the scene, including footsteps, key jingles, leather jacket squeaks and so on. Dialogue editors are the craftspeople who painstakingly smooth out the production sound recorded on location. ADR editors help to seamlessly weave the re-recorded dialogue that replaces problematic tracks. Music editors work with composers and music supervisors to spot cues and stitch together a sonic tapestry from the original score and prerecorded music from various sources.
Each year the MPSE presents "
The Golden Reel Awards
," in which we acknowledge the year's best work in the various areas of sound editing: Dialogue, ADR, Effects, Foley, and Music. As part of our commitment to educating the public on movie sound, the Motion Picture Sound Editors sponsors the annual
Verna Fields Award for Student Sound Editing,
which recognizes high-quality and imaginative sound editing in student film and video projects. This is an award for student sound editors, rather than for professional sound editors hired by the student filmmakers. We are interested in the total integration of filmmaking ideas: the creative use of sound effects, Foley, music, and/or dialogue. For more information on the award, visit
https://www.mpse.org/verna-fields-award.
The MPSE also offers a student category of membership in order to create a mentorship program with working sound professionals. For more information on membership, visit
https://www.mpse.org/join-mpse